If you would like to host a conference, webinar or seminar on behalf of HEIR, please

contact us

.
Free Online Event – The Future of National Student Surveys in the UK and Ireland: reflections, perceptions and challenges: 

As both the UK and Ireland move to review their long-standing national student survey systems and assess their effects on sector policy, this event seeks to identify the facets of these surveys that are most valuable to institutional researchers.

After hearing from those responsible for leading the reviews in each country, discussion groups will cover topics aimed at establishing the design features that contribute to the validity and breadth of student representation, and the detail and techniques that support insightful analysis. Sessions will also discuss the impediments to meaningful insight and consider how reviews might address these.

The HEIR network intends for this free online session to help those working in UK and Ireland HE providers who interpret assessments of student satisfaction and who look to national surveys for context and insight. By discussing the features that provide utility to institutional researchers, it is hoped that participants will be better equipped to contribute to the reviews of national student surveys taking place in each country.
Register here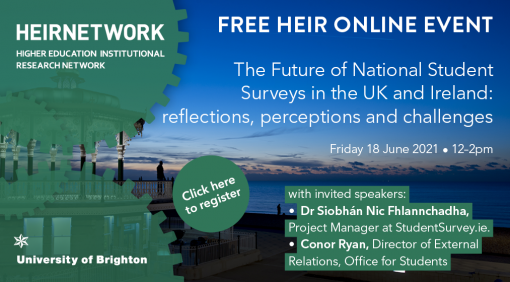 HEIR 2021 – 22nd – 24th September 2021
The University of St Andrews is delighted to be hosting the Higher Education Institutional Research (HEIR) Network 2021 annual conference.  The conference will be held virtually between Wednesday 22nd and Friday 24th September 2021.  The theme of the 2021 HEIR conference will be Inclusive Institutional Research.  The conference will explore wide-ranging ways in which institutional research can lead to inclusive practices across the sphere of HE activities.
Registration and call for papers is now open. Visit the conference website here.